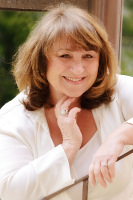 At 24 years old Rosa was involved in a car accident, which left her with a lack of mobility and in pain. The medicines provided for her treatment actually aggravated her condition leaving her with a sluggish bowel, and with the worsening aches and pains she was told she would most likely be in a wheel chair by the age of 40.
She turned to natural therapies including diet, exercise, massage, and Colonics which did help.. so she decided to take up a career in the health and beauty fields.
She is fully qualified and trained for:
Beauty Therapist and Cosmetologist (Confederation of Beauty Therapists)
Reflexology, Aromatherapy, and clinical Aromatherapy
Naturopathy
Colonic Hydrotherapy
Natural nutrition and herbal remedies
Rosa studied Colonics under Dr. Milo Siewert of Harley Street who had left the field of allopathic practice (surgery) to work and treat with Colonics and natural nutrition.
Rosa: "Because I was so pleased with the immediate results for myself I joined Dr. Siewert's school to learn to practice Colonic hydrotherapy and natural nutrition. Having completely recovered my own health I wanted to help others."
Rosa became a founder member of the Colonic Association and continues to learn and practice, developing her knowledge over 30 years in the field of holistic medicine.
Rosa has been running her own successful practice for over 20 years and she is now specialising in interotoxicity (re-absorbtion of your own toxins), and detoxification.
Specific treatments include:
Colonic Irrigation
Natural Nutrition
Herbal Remedies
Kidney, Gall Bladder and Liver Cleanse
Electro Therapy